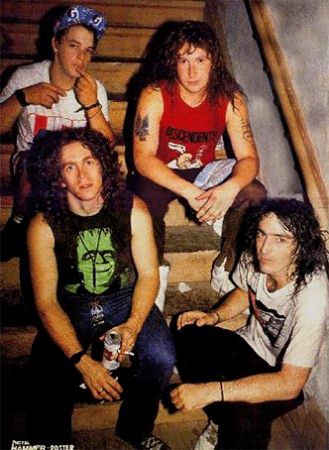 Originally appeared at:
www.flexyourhead.net
Random thoughts: Unfortunately, this was an e-mail interview. Still, quite a thrill to be interviewing one of the bands who introduced me to punk, hardcore, and metal. Back then they called it Crossover!
D.R.I.

Anyone who grew up on the uncompromising hardcore/punk/metal of D.R.I. (a.k.a. Dirty Rotten Imbeciles) understands how, in 1987, they came to coin a new genre called "crossover." Today, with punk/hardcore and metal meshing together into phenomenal new sub-genres (okay, and some not-so-phenomenal), a lot of credit needs to be given to D.R.I. Although they aren't as prolific these days, with band members living across the sea from each other, fans still clamor for their series of re-releases (2004 brought D.R.I. and Dealing with It, while Live at CBGB's and Crossover are due in 2005). And I'm sure every D.R.I. fan is hanging on the possibility of some new material from the band. Their new label, Beer City Records, is doing their best to make that happen. So here's hoping.
Jason Schreurs interviewed D.R.I. singer Kurt Brecht by email from his home in Italy in early December, 2004, on the same night that Dimebag Darrell (ex-Pantera) was shot in Columbus, Ohio.
I know you get this a lot, but when can fans expect some new material from D.R.I.?

Not sure, we are busy re-releasing our old stuff as enhanced CDs on Beer City right now.
Which of your old CDs are still be worked on for re-release?

Crossover and everything after that.
You guys must look back fondly at your past. Can you tell me a little bit about how you feel about D.R.I.'s history?

It's been like a dream come true! Very rough in the beginning, though. It's still so much fun and I feel really lucky to have a job I like, and one with which I can travel the world, making people happy. It's still a real privilege!
Do you guys ever feel the pressure to put new stuff out? I know the D.R.I. fans are pretty demanding sometimes. Does it make you panic a little, or are you able to take your time with your music without feeling that pressure?

We keep busy touring, and playing live is more important to us than studio work.
Yes, but you must feel a bit of pressure from the fans for new stuff. Even your website commented on "tons of emails asking us about new songs." Does that drive you to write new stuff?

With bands who have been around as long as we have, most people are happy just hearing the old stuff.
It must be hard for you guys to get together to write songs though, eh? I'm assuming all of the members are busy with other things?

I live in Italy, drummer [Rob Rampy] lives in Florida and the others [guitarist and other founding member Spike Cassidy, and new bassist Harald Oimoen] live in California. We don't even practice together anymore.
What about these four new songs you mentioned on the website. Any further plans to release them?

Beer City wants to get us in the studio as soon as possible, but first we have to get the Live at CBGB's CD and DVD out and the re-release of Crossover.
Some hints on what the new stuff will sound like?

Not really, we'll have to wait and see! But I would say more hardcore than metal.
That's interesting. So do you guys consider yourselves a hardcore band or a metal band? Or somewhere in between? Does the term crossover still describe you these days?

We are in between. I've seen us mentioned lately in books about metal, and other books about hardcore. Yes, crossover still fits us pretty well.
What do you think of the current trend of metalcore? Is that today's version of crossover?

Many of those bands might list D.R.I. as an influence.
How did you feel about the re-release CDs that came out last year? Were you happy with the final products?

Yes! Beer City kicks ass as a record company!
Obviously D.R.I. is a very political band, and has had some very important things to say over the years. How do you feel your messages have changed and adapted since the "Reaganomics" days? Or have you stayed pretty much the same in your outlook?

My outlook is the same, but D.R.I. is four very different guys, so you'd have to get all of our opinions.
Your opinions on the re-election of Bush?

A sad, sad situation.
What can a politically aware American do now that they have another four years of Bush to look forward to (besides moving to Canada, ha ha)?

I don't have any answers on that subject. I watch the news and try to make sense of it all. It all scares me.
What was it like working on the Probot project with Dave Grohl? Were you happy with the way the song "Silent Spring" turned out?

It was nice to get back in the studio and the first time I'd ever written a song with anyone outside of D.R.I. Made me want to get back in the studio with my guys! Yes, I'm happy with how it turned out. The whole album kicks ass.
The lyrics to "Silent Spring" on the Probot CD are awesome. Tell me about the inspiration behind them.

I knew a lot of people would read the lyrics, so I wanted to say something worthwhile. The title is from a book by Rachel Carlson about the damage the human race has inflicted on our earth in the last hundred years or so.
What was your reaction to the shooting of Dimebag Darrell?

What can I say? This makes no sense. Sad, sad...
For more info, go to:
www.dirtyrottenimbeciles.com